Jurassic World: Dominion Dominates Fandom Wikis - The Loop
Play Sound
Ms. DePaulo
Character Statistics
Relationships
Production Info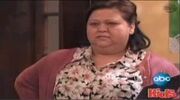 Ms. DePaulo was a teacher at Bayside High School.
Before Season 1
Ms. DePaulo was married, but divorce her husband some time before Raven Baxter's freshman year. She used his bowling trophy which she won in the divorce settlement as the trophy for the talent show.
Season 1
Ms. DePaulo assigned partners for the group science project, causing Raven having to be paired up with Ben Sturky. Raven complained and just as Ms. DePaulo was about to switch parters, Raven had a vision of getting an A with Ben and withdrew her complaint.
Later, Ms. DePaulo organized the school opera and put Eddie in charge. When Eddie couldn't decide whether to give the final spot to Raven or Chelsea, he gave it to both, something Ms. DePaulo felt would be interesting to see how it played out.
Season 2
By Raven Baxter's sophomore year, Ms. DePaulo took Mr. Lawler's position of English teacher as he became principal. She announced to the class about the fashion contest, and later showed Raven that her picture in the magazine had been photo-shopped.
Appearances
Season 1
1x01
1x02
1x03
1x04
1x05
1x06
1x07
1x08
1x09
1x10
1x11
1x12
1x13
1x14
1x15
1x16
1x17
1x18
1x19
1x20
1x21
Season 2
2x01
2x02
2x03
2x04
2x05
2x06
2x07
2x08
2x09
2x10
2x11
2x12
2x13
2x14
2x15
2x16
2x17
2x18
2x19
2x20
2x21
2x22